2017 Duck Festival Jr. Grand Marshalls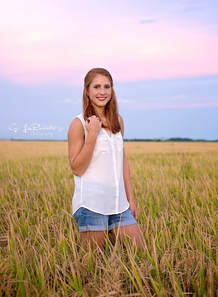 ERIN KAY JOHNSON
Erin Kay Johnson is the daughter of Carl and Kay Johnson. The 17-year-old red head, brown eyed young lady is currently a senior at Gueydan High School where she has been an honor roll student and a member of the Beta Club. Erin is a member of St. Peter's Catholic Church. Her hobbies include boat riding, tubing and wakeboarding, playing basketball, softball, spending time with her friends, and spoiling her godchild Vivian and nephew Zane. Erin has two older brothers, Adam and Kye. Erin is active in Gueydan High School athletics. She has been a member of the Honeybears basketball team for 4 years, just recently earning a 2017 Championship ring for winning the District 1-A State Championship game. She has also been a member of the softball team for 4 years. Erin has participaed in Literary Rally for Spanish I and II at both the district and state levels. She was chosen to attend the Hugh O'Brian Youth Leadership conference in Baton Rouge, LA. her sophomore year. Erin has also just recently attended Louisiana Girls State in Natchitoches, LA. Other high school honors that Erin has endured while attending school include, being a member of the GHS homecoming court for 2 years and being selected as prom representative her freshman year. Erin has also served her class as the Freshman Class President, Sophomore class Secretary, and was recently the Junior Class President. Erin would like to thank the Gueydan Duck Festival Association for this honor and looks forward to Festival Weekend.


---
CLAY ZAUNBRECHER
| | |
| --- | --- |
| | Clay is the 17 year old son of Madlyn & Aaron Zaunbrecher. He currently serves as President of the ARCH 4-H Club and the Vermilion Parish Jr. Leaders. He was recently elected to serve as President of the LA Youth Cooperatives Conference. Clay's interests are quite varied, as he participates in many projects within the 4-H program, including leadership, livestock, horse, food and fitness, woodworking and photography. He has been very involved with both the Youth Wetlands Project and the LA Hazard Mitigation Project. He is an avid wood-turner and operates his own business selling ink pens, duck calls, and other art work that he creates. He has been involved in theater with the Acadia Players, the Abbey Players and Bayou Broadway Productions. Clay developed a love for accordion through his involvement with LA Folk Roots. His hobbies include working with his horse, fishing, hunting, leather-work and beading, and playing music. Clay would like to thank the Gueydan Duck Festival Association for this honor and looks forward to attending the festival. |

2017 Duck Festival Grand Marshall

JAMIE BERGERON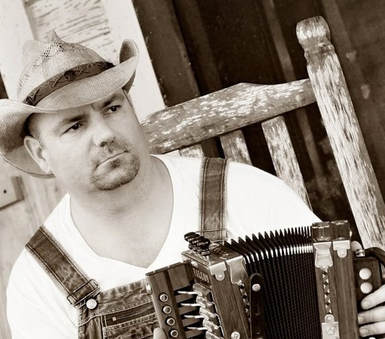 Each year the Gueydan Duck Festival Association chooses a Grand Marshal to lead the Grand Parade on the Saturday of festival weekend, one of the festival's main events. The Grand Marshal is chosen from a list of names that have been submitted to the Duck Festival Association's board of directors. These nominees are community leaders, dignitaries, or celebrities.
The 2017 Gueydan Duck Festival 41st year Grand Marshal is Jamie Bergeron. Jamie's name is a household word in Cajun Country. He is a local entertainer, who is known for his high powered shows and original songs. Jamie and the "Kickin Cajuns" have become one of the most sought after acts to play along the Gulf Coast. They have played at festivals, corporate events and clubs. Jamie's day time profession is an EMT Paremedic for the Acadian Ambulance. He is not only a life saver, but also a singer- songwriter and accordion player. He is also known for his strong Known for his strong sense of humor on and off stage.His fans, both young and old, are some of the most devout and have followed him throughout his career. The band has seven C.D.'s in their catalog and has begun to appear all across the country. They've been featured on MTV, The Food Network and the Discovery Channel. Jamie and his band were once again - for the 14th year in a row voted 'Best Cajun Band' and 'Best Zydeco Band' in Acadiana, with the Times of Acadiana's Best Readers Poll. Jamie, the son of the late accordionists Kermit Bergeron and began playing only a year before he formed his band. The Gueydan Duck Festival Association is honored to have Jamie Bergeron as their Grand Marshal.

---

2017 Duck Festival Honorees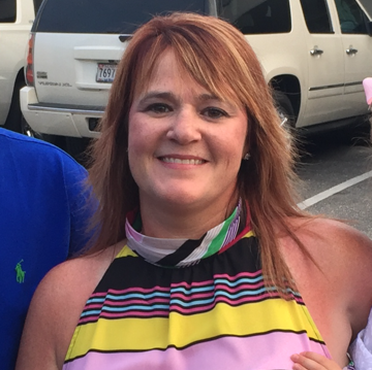 Tisha was born and raised in Gueydan. She is the daughter of a business owner. She attended Gueydan High School and Northeast University and in 1999 received a Bachelor of Science degree in Pharmacy. In 2010, she bought Health Mart Pharmacy in Gueydan where she had been employed for nine years. Tisha is very interested in promoting her community and branding her business as family oriented.
Tisha is a member of St. Peters Catholic Church and a member of Les Dames de Gueydan. She was an instrumental part and sponsor of St. Peters Catholic School. She loves her community and is a sponsor of Gueydan High School and Jesse Owens Elementary School. Tisha is married to Drue Dupree and they are the proud parents of two children. She is a long time support of the Gueydan Duck Festival and attends each year and enjoys the fun family time.

---


2017 Jr. Duck Festival Honoree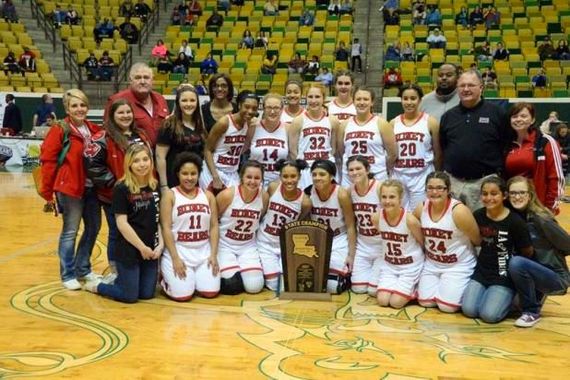 Gueydan High School's 2017 Class 1-A Louisiana State Champions.

​For the first time in its history, the Gueydan Duck Festival announces they will honor a group as the 2017 Gueydan Duck Festival Jr. Honoree. As a show of support and honor, the festival board decided to choose the 2017 Gueydan High School Honey Bears. After years of trial and error the town of Gueydan finally saw its' name in lights as the Louisiana Class 1A State Basketball champions. The group will have their place of honor alongside of the Grand Marshal, Jr. Grand Marshal and Honoree. This group of girls and their coaches worked hard through out the year to end their season as winners. And like the Duck Festival they have put Gueydan 'on the map'.With the support of their school, family and community the State Champions had a year they will never forget. The organizers of the festival would like to wish the continued success to the GHS Honey Bears and their coaches.