Gueydan Duck Festival Jr. Pageant
August 13th, 2017
(Sponsored in part by the Les Dames de Gueydan)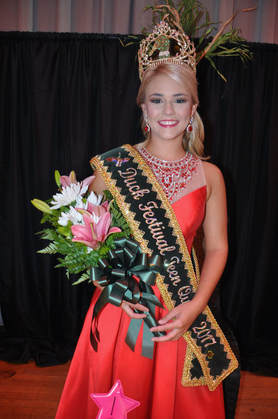 2017 Teen
Gueydan Duck Festival Queen
Maci Bergeron

---
*** Entry forms available for printout on our Forms/Contracts tab!!! ***
Pageant date: AUGUST 13, 2017
Pre-Registration DEADLINE: AUGUST 9, 2017
ENTRY FEE: $50 LATE ENTRY
(After Aug 9)
: $60
GUEYDAN HIGH SCHOOL
901 MAIN STREET
GUEYDAN, LA
ADMISSION: $5:00
DOORS WILL BE CLOSED AT NOON FOR LUNCH
RULES RULES RULES RULES
No eating, drinking or smoking allowed in building.
You may pay your entry fee yourself or secure a sponsor.
You may enter at the door on day of Pageant with a $10.00 LATE ENTRY FEE.
All participants must be present at the time of judging.
Entry fee will not be refunded.
Anyone causing trouble of any kind or acting in a disrespectful way will be asked to leave.
We reserve the right to refuse entry to anyone who refuses to follow the rules stated; to anyone who causes conflict during the pageant or is acting in a disrespectful manner; to anyone who chooses to speak out against the Gueydan Duck Festival or anyone associated with the festival and/or its pageants in the form of slander or in any negative way on any type of social media.
Your number will be called a total of 3 times, at one-minute increments, during your category's lineup if you are late. After the third time, the pageant will continue without you and you will not be allowed to enter. Your entry fee WILL NOT be refunded if you cannot compete because you are late.
You may choose to wear sportswear or camouflage in categories for ages 0-12 years; Formal wear in categories for ages 13-16.
Rules for TEEN QUEEN (Age 15-16)… YOU MAY NOT HOLD A TITLE ANY OTHER TITLE WHILE HOLDING THE TITLE OF TEEN DUCK AND/OR COMPETE FOR ANOTHER TITLE WHILE HOLDING THE TITLE OF TEEN DUCK. (If you are currently holding another title and do compete and win, you will be asked to step down from the previous title. If you refuse, you will no longer be able to hold the title of Teen Duck).Upon winning the title of Teen Duck, you will be required to sign a contract.


FOR MORE INFORMATION PLEASE CONTACT (call or text) K'REES BROUSSARD AT 337-523-1382 OR WENDY SMITH AT 337-884-7934
PLEASE MAIL ENTRY FORM TO:
GUEYDAN DUCK FESTIVAL
P.O. BOX 179
GUEYDAN, LA 70542
(The form must make it to me by the deadline date NOT mailed by deadline date)

MAKE CHECKS PAYABLE TO: GUEYDAN DUCK FESTIVAL ASSOCIATION
*Payment via paypal is available. (contact K'Rees Broussard for more info)

*REGISTRATION WILL BEGIN AT 9:00 AM FOR MORNING SESSION
*REGISTRATION WILL BEGIN AT 12:30 PM FOR AFTERNOON SESSION
(afternoon session contestants are able to register during morning session also)

MORNING
0 – 6 MONTHS----------------------------------------------------------------------TEE TINY QUEEN
7 -11 MONTHS----------------------------------------------------------------------BABY QUEEN
12-23 MONTHS---------------------------------------------------------------------TODDLER QUEEN
24-35 MONTHS---------------------------------------------------------------------TININCY QUEEN
3-4 YEARS---------------------------------------------------------------------------TINY QUEEN
5-6 YEARS---------------------------------------------------------------------------LA PETITE QUEEN
AFTERNOON
7-8 YEARS---------------------------------------------------------------------------PETITE QUEEN
9-10 YEARS-------------------------------------------------------------------------DEB QUEEN
11-12 YEARS------------------------------------------------------------------------DEBUTEEN QUEEN
13-14 YEARS-------------------FORMAL WEAR-------------------------------JUNIOR QUEEN
15-16 YEAR---------------------FORMAL WEAR-------------------------------TEEN QUEEN
SCORES AFTER THE PAGEANT:
If you would like to receive contestant scores after the pageant please contact K'Rees Broussard (text or call 337-523-1382) no earlier than August 15. If you would like scores mailed to you, please submit a self addressed, stamped envelope at the time of entry. ONLY your contestant's score will be given to you. You will not be allowed to see any other contestant scores. Your name must be on the form to receive that contestant's scores.
***All hair and make-up artists doing hair and/or makeup at the pageant will be charged a fee of $40 to be allowed to do so. Also a contract between the artist and the Festival/Pageant Director will need to be signed before the start of the pageant. The contract can be emailed or mailed out, or signed the morning of the pageant. Please contact K'Rees Broussard for more information.